While I'm always busy to one degree or another (meaning, my brain is wired in such a way that it allows me very little downtime), there are times I get really busy. This is when the number of items on my to-do list exceed the amount of time allotted to their completion.
Having moved into the new house just last year, we're now trying to top off the landscaping while there remain a few days of Texas spring and before the cloudless streak of burning triple digits force us into air conditioned shelter for seven months.
I've also spent the last couple weeks quickly ramping up on a project at work. This is going to be a big one: ambitious with a lot of eyeballs on it. And I'm bracing myself for the heavy and time-consuming workload that accompanies such projects.
Then there's my new, self-imposed, completely-voluntary obligation of The Ubergroup at Scribophile. I applied for this earlier in the year to help me keep my writing moving forward. It's the reason my current manuscript-in-progress will be: 1) late and 2) much, much better.
So it's important to have at least some downtime, lest I pop. And today I'd like to share one of my little escape ideas. You can even try it for yourself!
Step #1. Search YouTube for something like Ambient Trance Beat. Grab the first or second result, and click play. No need to skip the ad, since we still have some work to do.
Here's a perfect candidate:
Step #2. In a second browser tab, search YouTube for a "railroad cab ride" video. Important qualities: the view must be clear of obstructions (like, you don't want to see the inside of the train), it's best if it's in HD, and it's even more best if the camera is rock solid and doesn't shake. Finally, it's gotta be long enough to enjoy. Ten minutes is bare minimum, but I recommend one, two, or even ten hours. 🙂
Here's a perfect candidate:
Step #3. You have three choices with the audio: either leave it on for a full mix, reduce it to a light background noise, or mute it completely. Note: if the person who uploaded the video added a music track already (especially something inappropriate like 80s Metal Hair Band music) mute it entirely.
Now, with your music happily playing in the other browser tab click 'play' on the train video, maximize viewing to full screen, and enjoy.
Helpful Tip
If you're viewing this blog post on an appropriate device, you can experience this effect without leaving this blog page. Click play on both embedded videos, mute the train video's audio, and full-screen the heck out of it: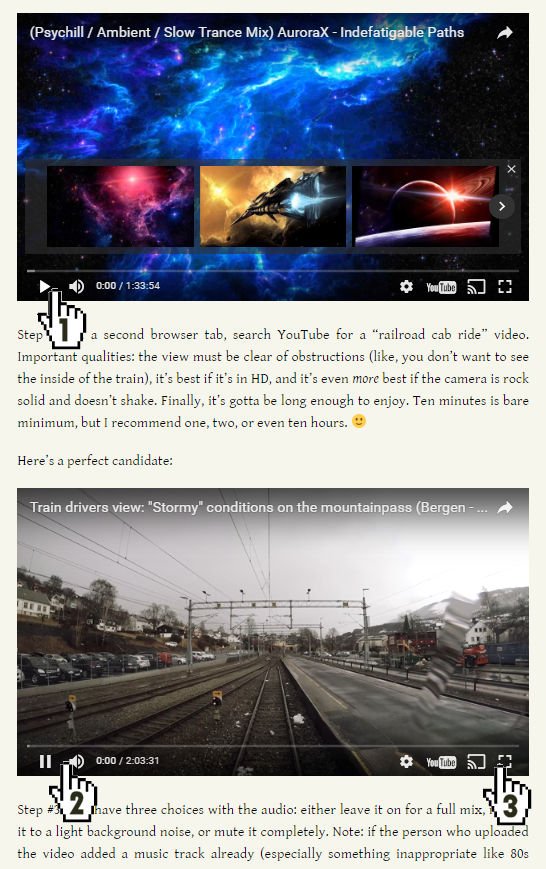 Enjoy!