Something happened in Chicago this week. I don't know if you heard about it or not but apparently a seventy-one year old curse was finally lifted and the Chicago Bulls won the Stanley Cup or something like that. I'm not clear on the details: I don't really like sports all that much. But I do like a good story! And this week I have two of them.
Curse of the Billy Goat
I don't doubt anyone following the Cubs at all this year hasn't heard of the curse. For the potential few who haven't, here it is. Billy Sianis opened Chicago's famed Billy Goat Tavern in 1934 (as shown here in the accompanying image © 2006, Jeremy Atherton). Apparently, the guy liked goats. But in a good way.
Being a fan of the Cubbies, he attended the 1945 World Series. Being a fan of goats, he brought his pet goat Murphy to the game. Who can blame him? I might take a much greater interest in sports if people always brought their favorite barnyard animal to the games. But that's just me and Billy. No one else appreciated his furry, cloven-foot friend, though. In fairness, the goat shouldn't have been drinking everyone else's beer. But, hey, that's what goats do. Billy and Murphy were ejected from the game under the charge of "You're too awesome for the likes of us."
Clearly upset by this act, he set the goat aside. The crowd backed away in awe as he pulled out his gnarled wizard staff, put on his pointy wizard hat, and cried out, "Jokalari hauek ez dira irabaziko berriro bi mila hamasei arte!" Lightening struck and thunder rumbled and the curse was laid. The Cubs lost that World Series and the team went 0 for 11,502 games after that.
Until this year. Way to go, Cubbies!
That's What Goats Do
I want this next story to be true. I'm not saying it isn't. Quite apart from the silly take on Billy's Curse above, as far as I know, this story really actually happened. But there's simply no way to verify it. I only know it from my dad's telling of it.
My parents moved to Chicago in 1965 and my dad took to working downtown. One way or another, he found his way to the Billy Goat Tavern. I have extraordinarily vague and fuzzy memories of this place when I was young. About all I can remember is it being dark and a sort of woody and hazy feel to it. The bathrooms were marked billies and nannies. And up on the wall, an illustration of Billy Sianis as a goat: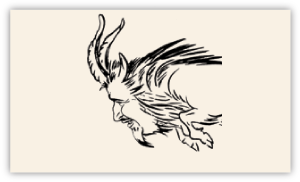 My dad took me to this strange and wonderful place several times. (At least once was after getting my hair cut at what I can only describe as an "old school" barber shop in the Wrigley Building.)
But the one visit I don't remember happened when I was probably three years old. On that trip, we were there at the same time as Billy Sianis and my dad wanted me to meet the legend. I'd probably had one or two beers too many in me already, but after being introduced to Mr. Sianis I glanced over at the logo, then back at the man, then at the logo again. At which point I head-butted him.